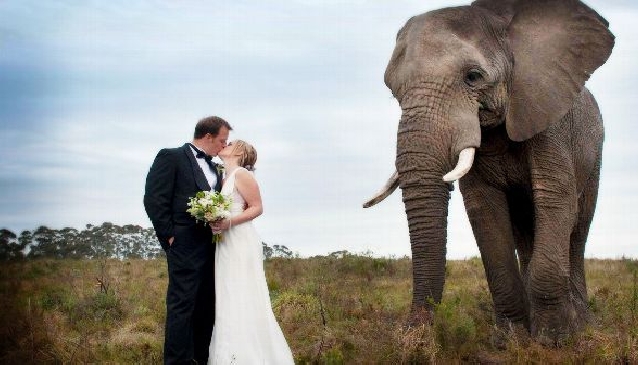 Revel in Romance in the African Wilderness
Arts & Culture
...who else can say they have got married and danced around an African bush fire...?
There is something inherently romantic about an African safari. Romance resonates across the African plains, mesmerising all those who venture into its unknown wilderness. Surrounded by dusky desert-lands and under rose-tinted glistening skies, it is easy to see why so many choose to go on safari with the one that means the most.
Whether getting to know each other, celebrating your honeymoon or simply enjoying the company of your loved one, there are numerous resorts in South Africa's Garden Route and Eastern Cape that are perfect for an intimate escape for two. And if you're thinking of tying the knot, weddings in Garden Route are unlike ceremonies anywhere else.
Shamwari Game Reserve is a fantastic place to get preened and pampered like an African King and Queen. Located in the malaria-free Eastern Cape, (nothing kills romance like a nasty bout of malaria), this private game reserve has a selection of seven luxurious lodges, set within tranquil and exclusive locations. Colonial in style, bedecked with their own private plunge pools and offering stunning views across the African bush, these thatched-roof villas are the perfect romantic retreat. With your own personal game ranger assigned to you, a stay at Shamwari will be exactly the escape you have been dreaming of...
Delve into the wilderness with your loved one on a Shamwari early morning game drive to see if you can tick the elusive big 5 off your list: the elephant, rhino, buffalo, lion and leopard. With tours lasting three to four hours, your expert guide will scour the arid African desert in search of these exotic creatures. The sight of this stunning wildlife against a backdrop of the earthy African bush is bound to ignite some fiery passion.
As dusk falls and the African desert becomes bathed in a pinkish hue, Shamwari's night drives are a perfect way for couples to bask in each other's company amidst the sunset glow. Don't forget to turn on the flash on your cameras though as the night drives offer prime-time viewing of the nocturnal big cats!
If you are considering the ultimate grand gesture of marriage amongst the African plains, the Hlosi Game Lodge will gladly host your big day. This five star grassland retreat, situated on the Amakhala Game Reserve, has four intimate suites each fitted with its own private bathroom and sumptuous spa-bath; perfect for the eagerly engaged and recently wed. Guided bush walks, African tribal dancing and unique bush breakfasts and dinners can also be enjoyed here, making your 'special' day just that little bit more special. After all, who else can say they have been on a game drive, got married and danced around an African bush fire, all in one day?
The Knysna Elephant Park, located in the heart of South Africa's glorious Garden Route, is another idyllic wedding venue. Saying your 'I do's' in this luscious nature park with the roaming elephants as your witnesses will not only make your wedding album but your entire trip. Celebrate your big day in true African style with an elephant ride around the park.
Your carriage awaits…