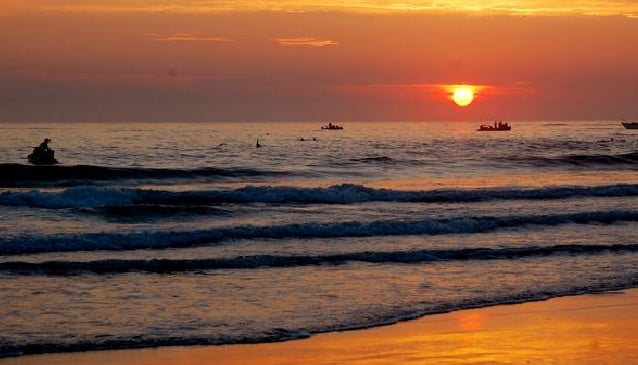 Port Elizabeth's Magnificent Seven
Editorial
It has recently been announced that Port Elizabeth, the city that sits at the far eastern end of South Africa's beautiful Garden Route region, will play host to the South African leg of the IRB Rugby World Sevens for the next four years. The games will take place in the new Nelson Mandela Bay Stadium, a magnificent, five-tier structure that can seat 48,000 fans. It's bound to be a real highlight of the Garden Route events calendar.
Interesting stuff indeed, but what of the city itself? Due to its proximity to the Eastern Cape's malaria-free safari parks, it is all too often overlooked by visitors as a mere jump-off point, which is a shame, because the 'Friendly City', as it's affectionately nicknamed, has plenty to recommend it.
With this in mind, we at My Guide Garden Route have dipped into our expert local knowledge to provide our very own Port Elizabeth World Sevens; a countdown of the Top Seven Attractions for you to experience while you're in the city, whether filling time between rugby games, stopping over before going on safari or simply visiting the city on its own merits.
Discover Port Elizabeth's Roots
The Donkin Heritage Trail is a free and perfect introduction to Port Elizabeth. It follows the footsteps of the city's founders, who arrived in the 1820s from Britain and created one of the most important settlements in the colonial history of South Africa. The trail, which is named after the then Acting Governor of the Cape Colony, Sir Rufane Donkin, is only five kilometres yet takes in an impressive 47 historical sites in central Port Elizabeth. It begins at Market Square, where you'll find the 1858 City Hall, and continues past such treats as No 7 Castle Museum, reputedly the oldest settler's cottage in the city, and the Donkin Library building, a magnificent example of Victorian Gothic architecture with a colonial twist. For an unrivalled view of the expansive bay fronting the city, head up the 52m Campanile (bell tower), which was erected in 1923 to honour the settlers. The route is very well signposted, meaning you don't need to pay for a guide, and you can find a detailed trail map at the tourist office which is located inside the lighthouse at the Donkin Reserve.
South Africa is infamous the world over for its apartheid past, and a Port Elizabeth township tour is a fantastic way to not only explore this painful period in the country's history, but also to witness how its legacy is inspiring everyone to move forwards and work towards a better future. An expert guide will lead you through New Brighton, the oldest township in Port Elizabeth, where you can view some buildings that the earliest settlers constructed almost 200 years ago. You will also visit the award-winning Red Location Museum, Port Elizabeth's memorial to apartheid, and finish the day with a drink in an authentic township tavern. The majority of South Africans live in townships, so apart from acquainting yourself with some history, the real value of this experience is gaining a glimpse into the day to day life of the population at large; something that's not always immediately apparent in the big cities.
Due to its prime position on Algoa Bay – a 40km stretch of unspoilt, golden sand lapped by the warm, turquoise waters of the Indian Ocean – Port Elizabeth holds bragging rights to some of the best beaches in the world. Indeed, no less than three have been awarded the prestigious Blue Flag award; the beach equivalent of an Oscar. The bay is fast becoming known as the water-sports capital of South Africa, so you won't be left in want of ways to fill your time. Apart from swimming, you can hire jet-skis, have a crack at surfing (board, wind and kite), take to the skies paragliding or duck beneath the waves to check out the dazzling coral reefs on a scuba dive. Or you could just hire a sunbed. All the main beaches have great facilities, which include shower blocks and places to eat and drink.
Although many people use Port Elizabeth as a base from which to explore the Eastern Cape's safari parks, the city itself and the surrounding area has plenty in the way of wildlife-spotting opportunities. Kragga Kamma Game Park, just a ten minute drive from the city-centre, boasts an incredible range of birdlife, not to mention some classic African game, including cheetahs, giraffes and white rhinos. Seaview Lion Park offers a chance to get up close and personal with its big kitties, which, apart from lions, include leopards and cheetahs. Addo Elephant National Park, located in dense scrubland about an hour's drive from Port Elizabeth, is home to over 450 of the colossal beasts. With regard to the marine side of things, whale-watching excursions run all year round from Algoa Bay, and also the world's largest African penguin colony call the nearby islands their home. Or at least they would if they were privy to such information. And could talk.
Port Elizabeth is home to some great golf courses which are complemented by the city's beautiful year-round climate and the mind-boggling scenery characteristic of the Garden Route. Humewood Golf Course is the highlight; a wide, undulating, 18-hole course with emerald fairways, thick coastal bush and immaculate, speedy greens, all set against a stunning backdrop of cobalt ocean. This course is widely regarded as one of the best in South Africa; a consensus supported by the fact that it's hosted the South African Open five times. A fantastic alternative is Walmer Golf Course, founded in 1897 and as such one of the oldest courses in the country. The nine holes are brilliantly challenging and the brand new clubhouse makes for a welcome end to the day. The course's signature hole is the sixth: a deceptively tricky par three which is only 127 metres long, but which calls for a seriously accurate shot due to a pond reaching right up to the front of the green.
Going for Sundowners (evening drinks) and a bite to eat is a favourite South African pastime, and with its plethora of excellent restaurants and cafes, Port Elizabeth is the ideal place to immerse yourself in the local way of life. Cubana Havana Lounge is a trendy Latino beach bar which offers some of the best sea-views in town. The glamour of the décor is matched only by that of the sensationally exquisite cocktails, which can be enjoyed with the sumptuous Latin American cuisine served throughout the day. For a more intimate affair try out Shannas, a wonderful little Portuguese restaurant which offers spacious seating and whose walls are adorned with murals. The food is sublime, with specialities that include spicy Peri-Peri chicken and the signature dish Carne de Porco Alentejana – pork fillet with clams and a garlic and red pepper paste. This place is a favourite with the locals – always a good sign – so making a reservation is essential.
Port Elizabeth has some tremendous bars and clubs, and while they may not be on the mammoth scale found in other areas of South Africa, they are refreshingly unpretentious and friendly – not to mention cheap! Finnez Cocktail Café is a great place to kick the night off. The atmosphere is a nice blend of sophistication and relaxation, and the bar's sweeping views across Port Elizabeth Harbour are truly breath taking. If you want to party into the early hours, look no further than Buzzbar, a seriously slick nightclub situated just south of the city centre. This is a stunning, over 21s venue, filled with mirror balls and lasers, where local and famous DJs spin the dance floor into a wild frenzy on a nightly basis. You might not remember a great deal the following day, but you'll know you've had a good time.
Port Elizabeth is a fantastic city which offers heaps of things to do, whether you're killing time between rugby matches or before and after a safari, or simply visiting the city on its own merits.