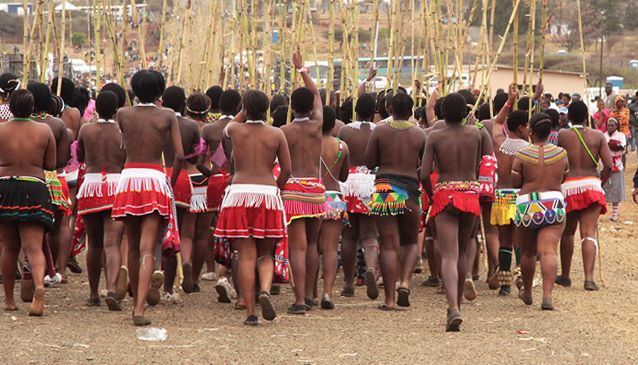 Eco Tourism in South Africa
Arts & Culture
A visit to the famous and luxurious Shamwari Reserve or Addo's Elephant Park is a must.
Perhaps not dispiritingly, the word 'ecotourism' is a bit of a misnomer. If images of long-haired hippies, burning camp fires, guitars and distant echoes of kum ba yah (a camp fire song) have put you off delving into the realms of responsible travelling, it is time to think again!
Not just for hippies and without with any obligatory 'roughing it' in sight, ecotourism, or more officially: "Responsible travel to natural areas that conserves the environment and improves the well-being of local people" (TIES, 1990), is one of the fastest growing sectors of the tourist industry, and is becoming increasingly popular with people from all walks of life, who feel their travel plans should reflect their social conscience. With luxury, yet environmentally-friendly accommodation, minimal impact wildlife experiences and tours that 'give back' to the local community, one delightful tourist region that is seeing a welcoming increase in environmentally sustainable travelling, is South Africa's Garden Route and Eastern Cape.
Depending on where you are coming from, you may of course need to fly into a South African airport in order to start your Garden Route and Eastern Cape eco-adventure. However, having off-set your carbon emissions, as every reputable airline now allows you do, you're ready to begin your environmentally responsible escapade with your first task: choosing suitably eco-friendly Garden Route accommodation for your trip.
Rest your head somewhere with a difference
With stunning natural landscapes and an abundance of uniquely African wildlife it is no wonder that several "Eco-Lodges" have sprung up around South Africa's Garden Route and Eastern Cape to accommodate the responsible eco-tourist. The stunning Phantom Forest Eco Reserve, located in the dense and indigenous Knysna forest, is a prime example of a luxury resort that has been built with the local surroundings and wildlife in mind. By using only sustainable materials and by following strong eco-principles the owners ensure that this wonderful resort only "touches the earth lightly". Another excellent example of eco-accommodation at its best are the Teniqua Treetops – a 'back to nature' set of tree-top chalets, offering the eco-tourist a perfect spot to rest and play, with an emphasis on ensuring the long-term sustainability of the vast Outeniqua forest and using as little energy as possible. According to visitors to this unique accommodation spot, to say Teniqua Treetops is 'green' is somewhat of an understatement. Here even rain water is harvested and toilets are of the dry-composting environmentally-friendly kind!
Sustainable Safari
Another important facet to the eco-tourist's holiday is ensuring that the effect on nature's creatures is kept to a minimum. Once again the Garden route and Eastern Cape provide plenty of options for wildlife viewing with minimal impact. With wildlife safaris proving to be one of the most popular activities here, several operators in the malaria-free Eastern Cape offer guests safaris in reserves where conservation and ensuring the way of life for the magnificent animals of the African veld are a top priority. A visit to the famous and luxurious Shamwari Reserve or Addo's Elephant Park for a conservation-focussed safari, are a must for any serious eco-tourist.
Give back to the community
Eco-tourism is not only about watching the wildlife it's also about giving a little something back to the local environment and community. On offer in the Garden Route and Eastern Cape, are a range of tours and activities, where travellers are given plenty of opportunity to help boost the local economy and contribute to conservation efforts. A tour of a local township is a great way to experience how daily life is for many millions of South Africans, and gives visitors the chance to see and contribute to the many vital community projects that are bringing about a real positive change. Visiting the region's many National Parks is also a sure way to invest in the future conservation of the area's natural diversity and many Garden Route restaurants ensure they only use local produce obtained at fair prices – another excellent way to make sure the local community benefits from the influx of tourists.
And finally...
With eco-tourism on the increase across the world it is pretty clear that the idea of responsible travel is here to stay. South Africa's naturally diverse Garden Route and Eastern Cape are fantastic destinations for the keen eco-tourist to explore. With ever growing numbers of "eco-options" available, visitors can enjoy a wonderful holiday, whilst helping to ensure the sustainability of the local environment and communities, always making sure to travel the true eco-way and "Take only pictures, leave only footprints."